The homepage contains a Layer Control button for viewing different map layers. The layers cannot be edited but are intended to provide additional visualization while discovering data. Click here to learn how to add a GeoJSON layer from your local computer. Currently, there are four layers to choose from:
USGS Stream Gages
Nationalmap Hydrology
EPA Watersheds
Native Lands
To Select a layer, simply click on the Layer Control button shown below to view the list of layers.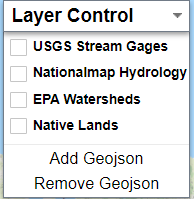 Click on a layer of interest such as the USGS Stream Gages layer as shown below.
USGS Stream Gages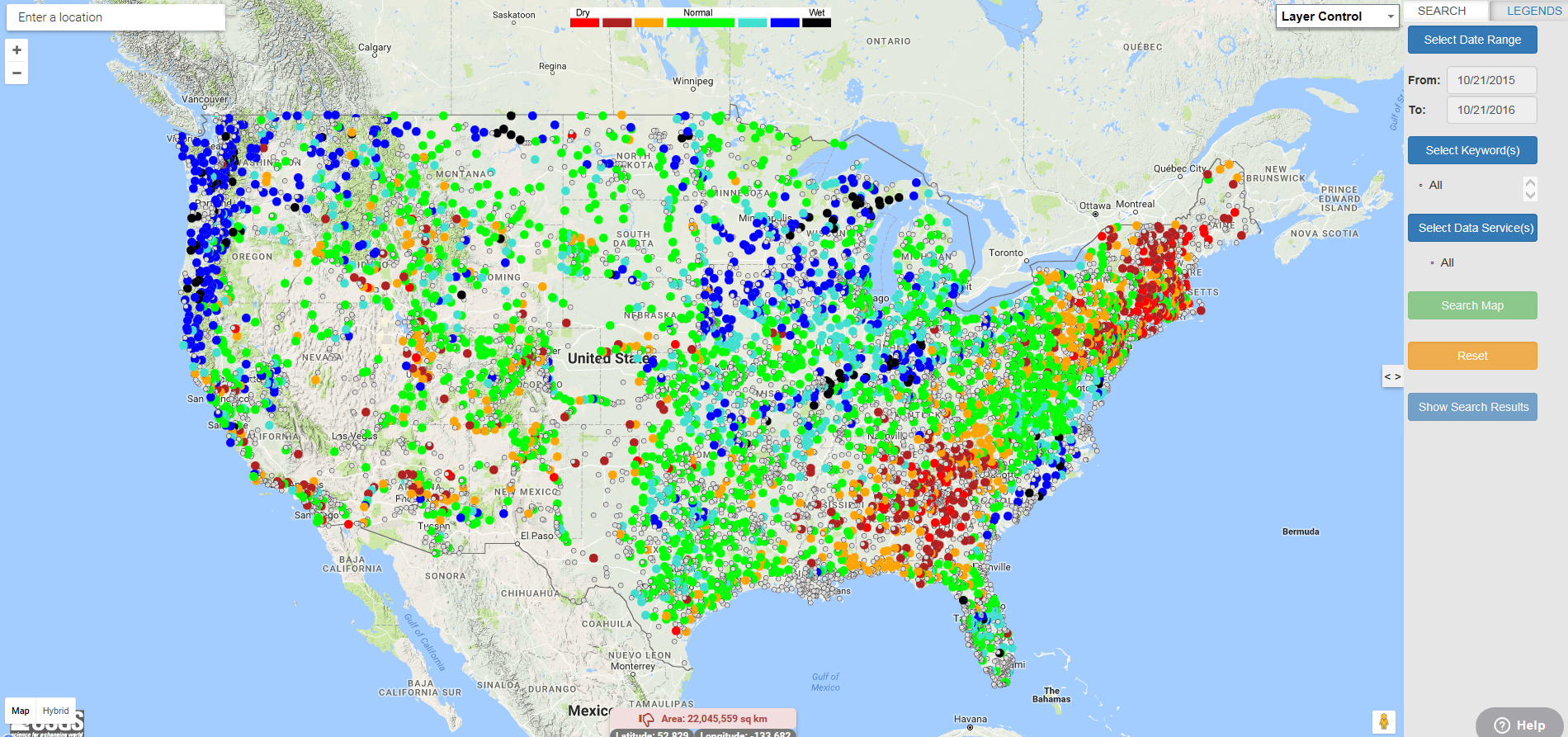 The USGS Stream Gage layer provides real-time streamflow compared to historical streamflow for the day of the year. The real-time information generally is updated on an hourly basis. The layer contains more than 3,000 long-term (30 years or more) USGS streamgages; uses colors to represent streamflow conditions compared to historical streamflow; and features a point-and-click interface allowing users to retrieve real-time streamflow conditions as shown below. The USGS Stream Gage layer was added from http://waterwatch.usgs.gov/index.php?id=real&sid=w__kml.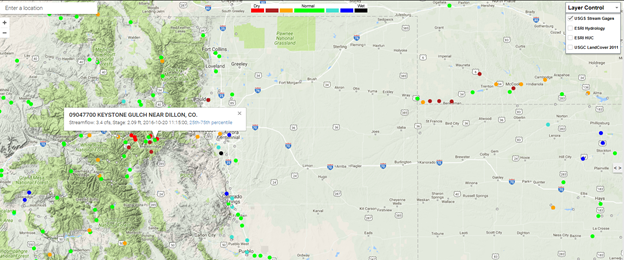 Nationalmap Hydrology
As shown below, the Nationalmap Hydrology layer represents the nation's drainage networks and related features, including rivers, streams, canals, lakes, ponds, glaciers, coastlines, dams, and streamgages. For more information, visit https://nationalmap.gov/index.html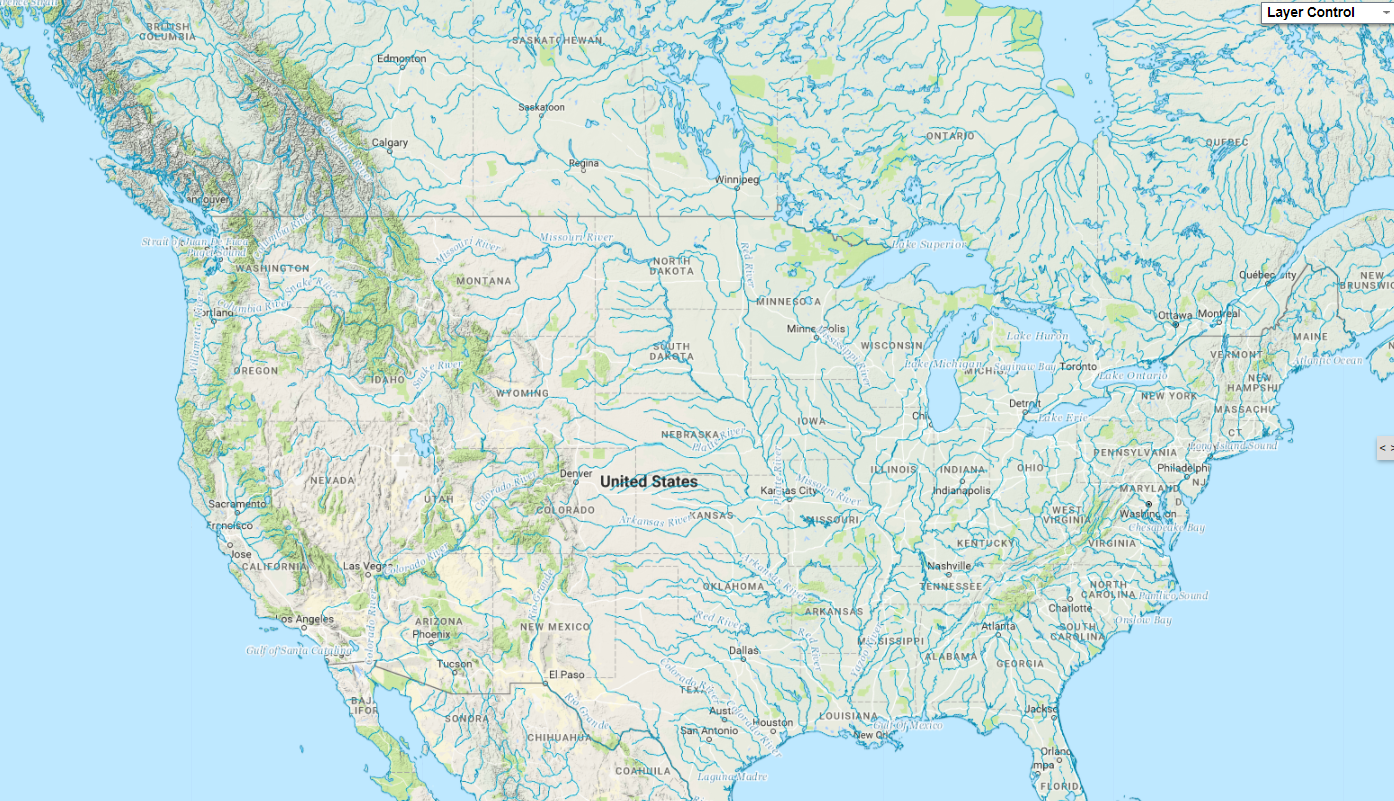 EPA Watersheds
The EPA Watershed layer contains Hydrologic Unit Codes (HUC) and geometry used in the Watershed Index Online Tool (WSIO). All layers have been simplified to optimize drawing performance, therefore the boundaries are not perfect, but they do give the user a quick and useful visual as to where the HUCs are located. As you zoom into the map, you will notice the watershed HUC2,4,6,8,10,12 are all provided.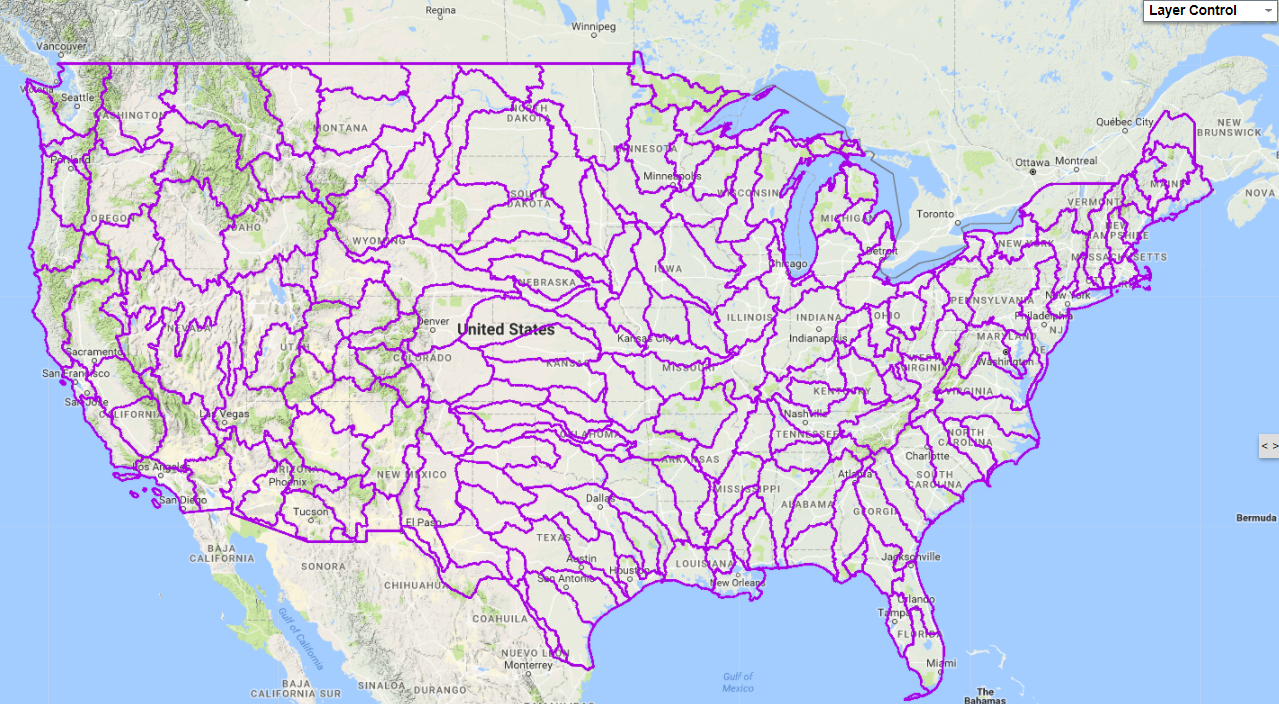 Native Lands
The Native Lands layer displays Native territories around the world. Click to learn more about a specific feature. This map is from Native-Land.ca, which is run by the nonprofit organization Native Land Digital. Native Land Digital's mission includes mapping Indigenous territories, treaties, and languages across the world in a way that goes beyond colonial ways of thinking in order to better represent how Indigenous people want to see themselves.
This map is not intended to be used as an academic or legal resource. It should be used with an understanding that areas may be incorrect according to local nations and individual interpretation. Native Land Digital constantly researches and periodically updates the map in an effort to remain as accurate as possible, however errors may still exist.