The Workspace provides the ability to save data series (up to 50 data series) and perform additional actions. If you are not logged in as an authenticated Google User, you may only save data series to the WorkSpace for a single browsing session. However, logged in authenticated Google users have the ability to save data series to the Workspace for up to 30 days.
To use the Workspace, first complete a search and view all search results by clicking Filter Results... or click on an individual data marker to view specific data series. In the table of search results, click a row to highlight one or more data series of interest. To add the highlighted data series to the Workspace, click Select Action and choose Save Selection(s) to Workspace as shown below. The image below shows the options for users that are signed in with their Google account.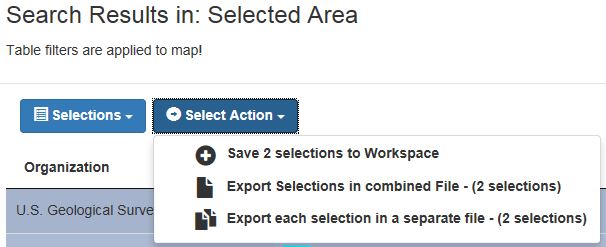 After you have saved selections to your Workspace, click on the Workspace button as shown below.